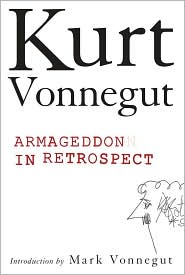 Like an unexpected visit from a lifelong friend you thought you'd lost forever, Kurt Vonnegut's *NEW* book,
Armageddon in Retrospect
, popped up on a shelf in a book store in the Dallas airport -- and I snagged it up immediately. I was not aware that Vonnegut had any unpublished work remaining that would be published posthumously. But here, in all its glory, is a collection of short stories all focused on war.
I've been a lifelong fan of Vonnegut's and I'm cherishing this book slowly - a story or two a day. If you've enjoyed Vonnegut in the past, you'll thoroughly enjoy this new book.
Armageddon in Retrospect
contains twelve new and unpublished writings on war and peace. The stories range from from a nonfiction recollection of the destruction of Dresden during World War II to a very funny story about three privates and their fantasies of the perfect first meal upon returning home from war...
And sprinkled throughout the book are examples of Vonnegut's drawing and art, like this one:
If you've ever enjoyed Vonnegut's work, do yourself a favor and find a copy of this book. His take on war... and peace... is "on the mark" even as he "speaks" to us from beyond the grave.